TRUCKS DISMANTLING HAMILTON – Paying up to $12000 for Any Truck
TRUCK WRECKERS HAMILTON HAS BEEN IN WRECKING BUSINESS FOR A DECADE. WE LOVE TO BUY TRUCKS AND COMMERCIAL VEHICLE. WE ARE LOCAL  IN HAMILTON AREA.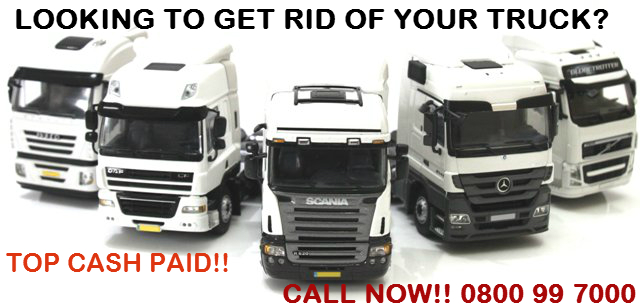 Cash for Any Trucks or Commercial Vehicle
Have you got any trucks for wrecking?
Want to get Top Cash for your Truck? We pay up to $12000 cash on spot.
Truck Wreckers Hamilton buy all types of trucks or commercial vehicle. No matter!! What condition, make or model of your truck.
Truck Wreckers Hamilton pays you top cash on the spot for your truck and commercial vehicle.
What can we do for you? Well, save you TIME for a start. Call 0800 997 000 can find your truck parts FAST. Truck Wreckers Hamilton have hundreds of registered truck wreckers with hundreds of thousands of parts under their control.
Truck Wreckers Hamilton Buy All Kinds of Trucks
Trucks Makes: DAF, Freightliner, Hino, Iveco, Isuzu, Kenworth, Mack, Mercedes-Benz, Scania, Nissan, Ford, Volvo
Used Truck Parts - Hamilton
Are you looking for used truck parts? We have got parts for almost all makes and models of trucks.
Trucks Used Parts Available for Sale:
Tyres
Batteries
Doors
Windscreen
Mirrors
Seats
Seat Belts
Engine Parts
Starter Motors
Lights
Other Truck Parts
Fill-out Request for Quote form and get a quote or Text on 021873853.
Service Area – Truck Wreckers Hamilton
Western suburbs - Hamilton
Beerescourt, Crawshaw, Deanwell, Dinsdale, Frankton, Fitzroy, Forest Lake, Glenview, Grandview Heights, Hamilton North, Hamilton West, Hamilton Central, Livingstone, Maeroa, Melville, Nawton, Peacocke, Pukete, Rotokauri, Stonebridge, St Andrews, Te Rapa, Temple View, Thornton, Western Heights, Whitiora.
Eastern suburbs - Hamilton
Ashmore, Chartwell, Chedworth Park, Claudelands, Callum Brae,  Enderley, Fairfield, Fairview Downs, Flagstaff, Hamilton East, Hillcrest,  Harrowfield, Huntington, Magellan Rise, Queenwood, Ruakura, Riverlea, Rototuna, Silverdale, Somerset Heights, St James Park, St Petersburg.
Towns/Suburbs in the Hamilton Urban Area
Cambridge, Te Awamutu, Ngaruawahia, Taupiri, Horotiu, Horsham Downs, Huntly, Gordonton, Ohaupo, Ngahinapouri, Te Kowhai, Whatawhata, Tamahere, Matangi, Tauwhare, Rukuhia, Kihikihi.
Truck Removal Hamilton
We pay up to $12,000 Cash for Any Trucks or Commercial Vehicle.
Totally FREE Hamilton truck removal service
No matter what make or model your truck is or what condition it is in. We pay you up to $12,000 cash on the spot. Get a free quote by calling us on 0800997000 or filling out the request for quote form on the right.